Gutters & Downspout Installation in Greater St. Louis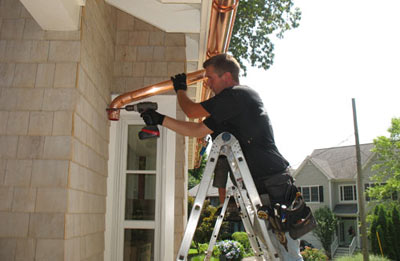 Gutters and downspouts are important for the health and well-being of your house. By directing roof runoff away from your foundation walls, this drainage system is your first line of defense against basement or crawl space flooding.
A well-functioning gutter and downspout system preserves your topsoil and protects exterior siding and trim from backsplash water that can damage paint and cause wood rot.
Free Roofing Estimate
Contact us today for your gutter and downspout estimate! We service in and around St. Charles, Florissant, Ballwin, Saint Louis, Chesterfield, O Fallon, Granite City, Saint Peters, and more!
What's the Best Gutter and Downspout Material?
If you're planning to replace old gutters and downspouts or install a new roof drainage system, one of your first decisions will be the material used for gutters and downspouts. We offer seamless copper gutter installation and also install seamless aluminum gutters in MO and IL. Here are some details about the different materials choices for gutters and downspouts.
K Profile or Half-round Gutters?
Another decision you'll have to make concerns the profile or cross-section of your new gutters. Aluminum gutters are usually installed in a "K" profile that features a curved front edge. The "K" or "Ogee" gutter profile is compatible with many house styles.
Round or (more accurately) half-round gutters are often chosen when the homeowner wants copper or galvanized steel gutters.
Gutter size is also an important decision. The size denotes the measurement across the top of the gutter. Most houses require either 5-inch or 6-inch gutters. The downspouts used in a gutter-and-downspout system can have a rectangular or circular profile.
Other Details to Consider
If you're having gutters and downspouts installed, it makes sense to consider including gutter guards and splash blocks or ground drainage in your installation. Gutter guards or covers will help to prevent your gutters and downspouts from being clogged by leaves, twigs and other debris. Splash blocks and ground drains help to direct water from downspouts away from the house.
We are your resource for gutter and downspout work throughout Greater St. Louis including St. Louis, St. Charles, Florissant, Ballwin, O Fallon, Granite City, Saint Peters, Chesterfield, Alton, Collinsville, Fenton, Arnold, and the surrounding areas!
Looking for a price? Get a no cost, no obligation free estimate.