Expert Gutter Guard & Leaf Guard Installation in St. Louis, St. Charles, Florissant, Ballwin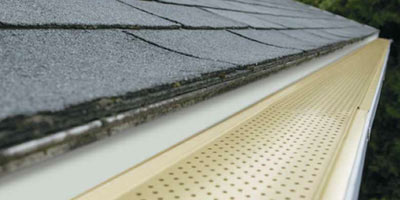 Many Names For The Same Thing
Gutter guards go by many names, including the following:
Gutter screen
Leaf guard
Gutter cover
Leaf filter
Gutter helmet
Leaf screen
Gutter brush
It's raining cats and dogs outside. As you observe the downpour and listen to the intense pelting on your roof, a single thought occurs: "I hope my gutters aren't clogged."
Clogged Gutters can Flood your Basement and Damage Exterior Siding & Trim
When a gutter clogs, bad things happen. In a heavy downpour, a clogged gutter will fill quickly with water and begin to overflow. Water gets dumped exactly where you DON'T want it: against your basement walls.
As the soil around your foundation becomes saturated with water, hydrostatic pressure often causes water to leak into the basement.
In addition to causing basement flooding, clogged & overflowing gutters can damage patios, decking, and plants around the perimeter of your house. Clogged gutters will also cause wood siding, sheathing, and trim to rot, requiring expensive repairs.
We are the locally trusted gutter expert helping homeowners in and around St. Louis, St. Charles, Florissant, Ballwin, St. Peters, Chesterfield, O Fallon, Granite City, and more!
Call for a free inspection and estimate today
Installing gutter guards is a "once-and-done" upgrade that will protect your home from all kinds of moisture damage. Roofers Nation provides free gutter and downspout inspection, Free Estimates in MO and IL for all upgrades, and expert installation!
Gutter Guards Protect your Property and Provide Peace of Mind
There are many different types of protection against clogged gutters. In fact, the protective screens or covers designed for gutters go by many names (see "Many Names For The Same Thing" above). At Roofers Nation, experience has taught us that screen-type gutter covers work best. With this type of gutter guard, one edge of the screen tucks under the bottom course of roof shingles, while the other edge is secured to the outside edge of the gutter. We like the fact that this type of guard can be removed if necessary –like when a gutter section is damaged by a fallen tree limb, for example. When they're installed correctly, screen-type gutter guards enable you to enjoy rainstorms rather then dread them.
Some Gutter Guards Work Better than Others
Testing by Consumer Reports revealed that some types of gutter guards work better than others. For example, solid covers that force the water to travel over and around the guard keep leaves and other debris out of the gutter but can't handle the water flow of a heavy downpour. The fine screen gutter guards that we install had the best test results, keeping gutters clear while moving maximum amounts of water through the drainage system.
We offer Free Estimates for installing gutter guard for your home. Just contact us today and we'll be happy to schedule the most convenient appointment. We help homeowners in Ballwin, Saint Louis, Saint Charles, Florissant, Granite City, Saint Peters, Chesterfield, O Fallon, Collinsville, Fenton, Arnold, Alton, and all surrounding areas.
Looking for a price? Get a no cost, no obligation free estimate.